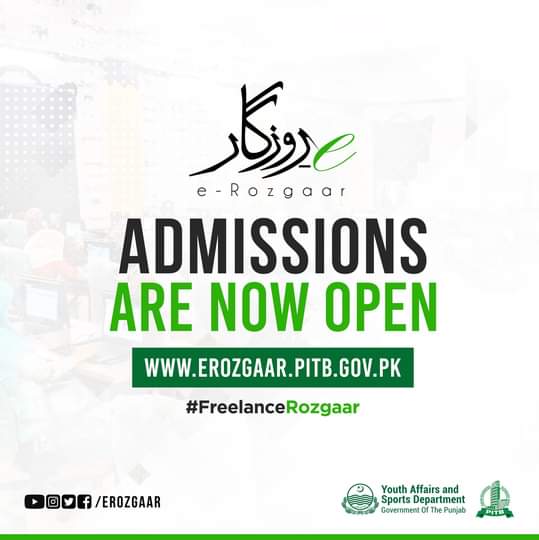 𝗔𝗗𝗠𝗜𝗦𝗦𝗜𝗢𝗡𝗦 𝗙𝗢𝗥 𝗲-𝗥𝗼𝘇𝗴𝗮𝗮𝗿 𝗡𝗘𝗫𝗧 𝗕𝗔𝗧𝗖𝗛 𝗔𝗥𝗘 𝗡𝗢𝗪 𝗢𝗣𝗘𝗡 𝗙𝗢𝗥 𝗕𝗢𝗧𝗛 𝗢𝗡𝗟𝗜𝗡𝗘 𝗔𝗡𝗗 𝗣𝗛𝗬𝗦𝗜𝗖𝗔𝗟 𝗧𝗥𝗔𝗜𝗡𝗜𝗡𝗚 for Punjab Domicile Candidates Only
After the success of our online training sessions, we are now offering both online and physical mode of training across 36 districts of Punjab! You can select any mode of training that suits you!
Apply now for free to earn a respectable livelihood from the ease of your home after and during 3 months of free training!
Link to apply: https://www.erozgaar.pitb.gov.pk/apply
𝗔𝗽𝗽𝗹𝗶𝗰𝗮𝘁𝗶𝗼𝗻𝘀 𝗮𝗿𝗲 𝗹𝗶𝘃𝗲 𝗳𝗼𝗿 𝗣𝗵𝘆𝘀𝗶𝗰𝗮𝗹 𝗧𝗿𝗮𝗶𝗻𝗶𝗻𝗴 𝗮𝘁 𝘁𝗵𝗲 𝗳𝗼𝗹𝗹𝗼𝘄𝗶𝗻𝗴 𝗲-𝗥𝗼𝘇𝗴𝗮𝗮𝗿
Steps to apply:
– Click on the link given
https://www.erozgaar.pitb.gov.pk/apply
– Fill the form with your information and select your training mode PHYSICAL or ONLINE training. (Provide actual information because you'll be asked to get this information verified later on)
(𝗬𝗢𝗨 𝗖𝗔𝗡'𝗧 𝗖𝗛𝗔𝗡𝗚𝗘 𝗬𝗢𝗨𝗥 𝗖𝗢𝗨𝗥𝗦𝗘, 𝗠𝗢𝗗𝗘 𝗢𝗙 𝗧𝗥𝗔𝗜𝗡𝗜𝗡𝗚 𝗔𝗡𝗗 𝗬𝗢𝗨𝗥 𝗖𝗘𝗡𝗧𝗘𝗥 𝗢𝗡𝗖𝗘 𝗬𝗢𝗨 𝗛𝗔𝗩𝗘 𝗦𝗘𝗟𝗘𝗖𝗧𝗘𝗗 𝗜𝗧 𝗪𝗛𝗜𝗟𝗘 𝗔𝗣𝗣𝗟𝗬𝗜𝗡𝗚)
– After signup, you'll receive an email and SMS containing your login details
– Login through the candidate login link available in the email using the login ID and password details present in the same email
– After successful login, You'll be asked to attempt an MCQs based online test consisting of 30 questions in 30 minutes
(Make sure you have stable internet and power backup because the failure of power/internet may cause blockage to test access)
– After signup, You will have 72 hours to give your online test. Otherwise, your application will be considered null and void.
Eligibility Criteria:
– Punjab Domicile
– Maximum age: 35 years
– Education: At least 16 years
– Employment Status: Unemployed
The 3 domains that candidates can select one from are:
𝟭. 𝗧𝗲𝗰𝗵𝗻𝗶𝗰𝗮𝗹:
– Web Development Basics
– HTML & CSS
– SQL
– PHP & Mysql (Dynamic Websites)
– Building Websites Using WordPress
– Custom Content Type in WordPress
– WordPress Theme and Plugin Development
𝟮. 𝗖𝗼𝗻𝘁𝗲𝗻𝘁 𝗠𝗮𝗿𝗸𝗲𝘁𝗶𝗻𝗴 & 𝗔𝗱𝘃𝗲𝗿𝘁𝗶𝘀𝗶𝗻𝗴 𝘁𝗵𝗮𝘁 𝗶𝗻𝗰𝗹𝘂𝗱𝗲:
– Content Marketing
– Marketing Funnels
– Creating Engaging Content
– WordPress for Blogging
– Lead Generation
– Distribute Content
– On-Page SEO and Back-linking
𝟯. 𝗖𝗿𝗲𝗮𝘁𝗶𝘃𝗲 𝗗𝗲𝘀𝗶𝗴𝗻:
– Logo Design
– Corporate Identity Kit
– Adobe Photoshop
– Adobe Illustrator
– Adobe InDesign
*𝗙𝗿𝗲𝗲𝗹𝗮𝗻𝗰𝗶𝗻𝗴 𝗖𝗼𝘂𝗿𝘀𝗲 𝘄𝗶𝗹𝗹 𝗯𝗲 𝘁𝗮𝘂𝗴𝗵𝘁 𝗶𝗻 𝗮𝗹𝗹 𝟯 𝗱𝗼𝗺𝗮𝗶𝗻𝘀
so that all our students can monetize their skills and make a handsome amount of money through online means.
Hits: 7